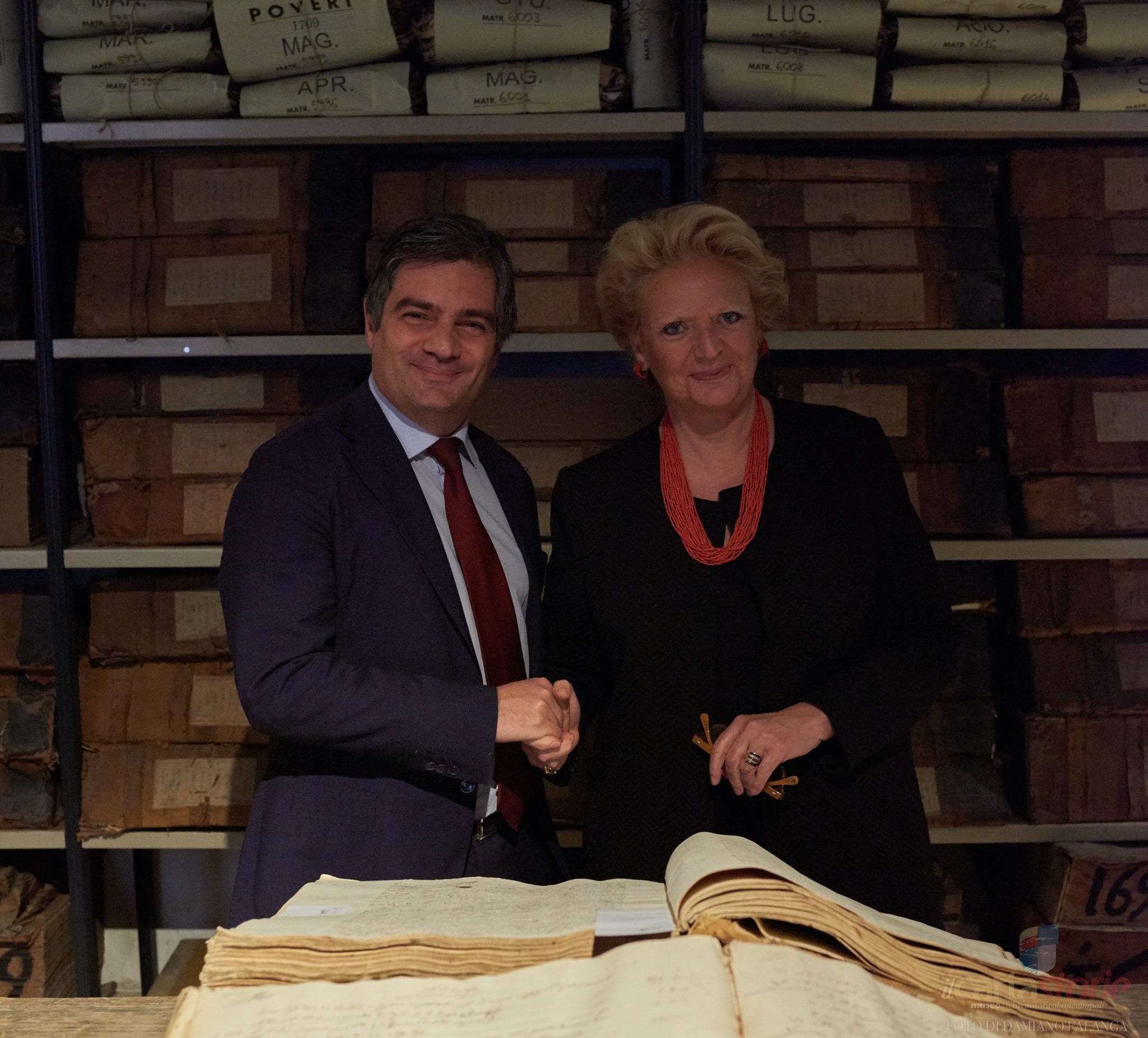 Princess Béatrice of Bourbon-Two Sicilies
"Even though I live in Paris, Naples is my city, and it's in my heart. I must say that a visit like this is truly moving because in this Archive, there is the entire history of our Country and my family. So this is just a first visit, and not the last. I will certainly come back."
This was the reaction of her royal highness Princess Béatrice of Bourbon-Two Sicilies, whom we had the honor to receive at the Banco di Napoli Historical Archives and ilCartastorie museum on March 6, 2017.
The president of the Foundation, Daniele Marrama, was the first to welcome her, along with the Director of the Archives, Eduardo Nappi, who accompanied her through the multimedia exhibition Kaleidos (by Stefano Gargiulo – Kaos Productions) and thought the rooms of the Archive, where the history of the Royal Bourbon family is written in the tomes of the largest bank archive in the world.
This Archive is the same one that the Bourbons, who were leading figures in the history of southern Italy, contributed to directly in its content and in its current location at the headquarters of the Foundation, which today houses documents from the eight Neapolitan public banks, united to form the Banco delle Due Sicilie and later the Banco di Napoli.
During her visit, the Princess witnessed the primiere showing of "Scavando tra le carte" (Digging through the Documents), a project produced by ilCartastorie about the antiquities of Herculaneum. The video was part of the exhibit entitled "Carlo II and Antiquity: Naples, Madrid, and Mexico City" at the Archeological Museum of Naples (MANN).