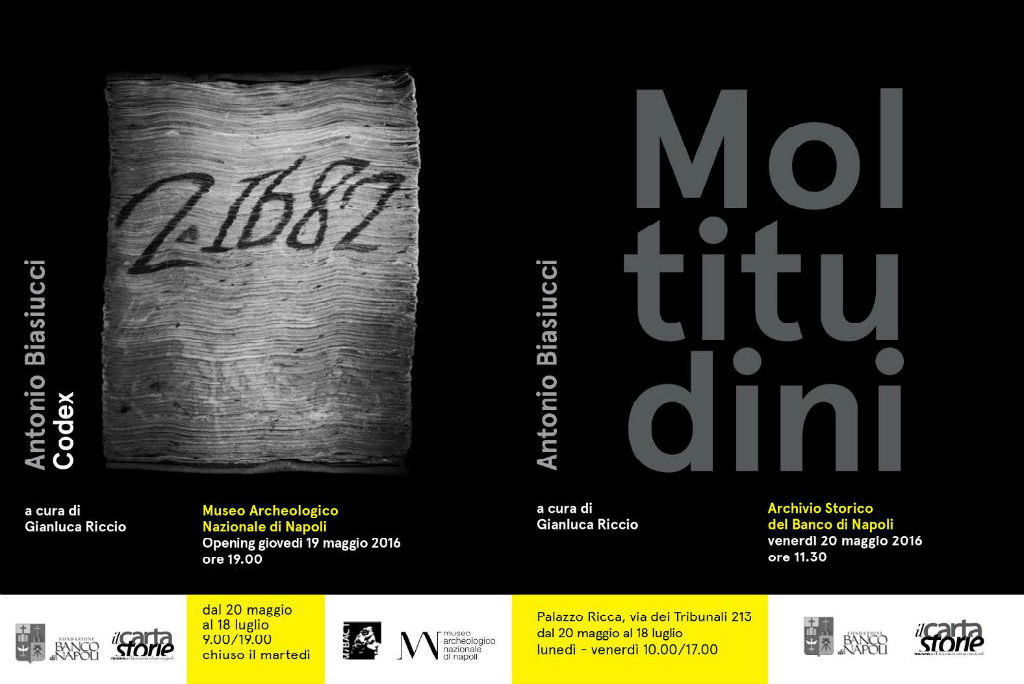 CODEX – Antonio Biasiucci
The exhibition entitled CODEX by Antonio Biasiucci  was inaugurated on Thursday, May 19 at 7 p.m. at the National Archaeological Museum of Naples. Curated by Gianluca Riccio, it was sponsored by the Banco di Napoli Foundation as part of the cultural museum project called ilCartastorie.
The exhibition continues, in two expository spaces, with the site-specific work entitled MOLTITUDINI prepared at the offices of the Banco di Napoli Foundation in Palazzo Ricca, in via dei Tribunali, and the exhibition was opened to the public on Friday, May 20 at 11.30 a.m.
CODEX presents the the artist's work which was inspired by the  Banco di Napoli Historical Archives. The exhibition offers a large selection of images produced by the artist during his artists' residency at the Archives from summer to autumn of 2015. It is a series of large black and white photographs in which Biasiucci moves beyond the mere objectivity of the documents to reveal their intrinsic evocative and narrative power in a polyptych measuring 14 meters high and 6 meters wide.
 "Heedless of their origin and purpose, Biasiucci portrays the files one by one and then reassembles them in a sequence released from every principal of chronological progression, thus arranging the ancient piles of paper in an order in which History no longer presents itself as a temporal field but a spatial one, like a secret atlas or the ideal model of a city within a city.
92/93
Once again one beside the other, the files offer themselves to the eye like the tesserae of a freshly perceived urban skyline, like the outline of a city with a memory built on the stratification of traces of history and of uncertain identities that have animated and crossed it.
". Gianluca Riccio (Antonio Biasiucci, Codex, Introduction by Gianluca Riccio, ed. Contrasto, 2016).
Moltitudini, at the offices of the Banco di Napoli Foundation which houses the vast collection of documents of the Historical Archives, is the site-specific work carried out in rooms on the third floor of the archives. The visitor walks into a room that is completely dark, yet animated by the appearance of hundreds of faces and objects projected onto the surfaces of the ancient ledgers, which envelop the space and remind us of the 17 million identities found in the documents of the Archives: a place for memory which becomes the container of humanity.
With the exhibitions called "Residenze d'Artista" of ilCartastorie dedicated to some of the main exponents of contemporary artistic studies for the artistic and cultural promotion of the material collections of the Archives.