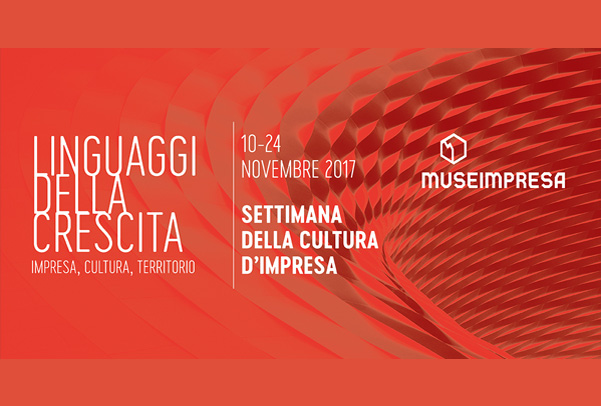 (Italiano) Settimana della Cultura d'Impresa 2017
16th EDITION
The languages of growth: business, culture, territory
FROM NOVEMBER 13 TO 18 2017 SPECIAL OFFER FOR GUIDED TOURS TO THE BANCO DI NAPOLI HISTORICAL ARCHIVES
The Banco di Napoli Foundation will participate in Culture Business Week 2017 with its museum, IlCartastorie, as part of the Museimpresa network (literally, the Museum Business network).
The concept of culture is often associated with history and the exceptionality of the Italian artistic patrimony, but there are many other elements that contribute to the construction of the collective imagination: intelligence, creativity, innovation, work, people. The Museimpresa network aims to promote this extraordinary historical-cultural patrimony because culture is not only past, but also present, progressive, and sustainable: it is the language of growth. To share their story, on the occasion of the 16th edition of Culture Business Week promoted by Confindustria (the Italian Industrial Federation).
Il concetto di cultura spesso si associa alla storia e all'unicità del patrimonio artistico italiano, ma esistono anche molti altri elementi che contribuiscono alla costruzione dell'immaginario collettivo: ingegno, creatività, innovazione, lavoro, persone. Museimpresa si impegna a valorizzare questo straordinario patrimonio storico-culturale perché la cultura non è solo passato, è anche presente, progresso, sostenibilità: è linguaggio della crescita. Per condividere questo racconto, in occasione dalla sedicesima edizione della Settimana della Cultura d'Impresa promossa da Confindustria, Museimpresa organizza dal 10 al 24 novembre un articolato calendario di eventi su tutto il territorio nazionale, un viaggio nel capitale culturale delle imprese attraverso le eccellenze imprenditoriali che sono protagoniste dello sviluppo economico, ma anche motori di conoscenza e creatività. Territori, imprese, persone: è qui che la cultura affonda le sue radici, è da qui che si sviluppa la linfa dell'innovazione.
Convegni, incontri, workshop, rassegne di cinema industriale, mostre, dibattiti e visite guidate: un programma con oltre sessanta iniziative sul territorio nazionale, tra cui, a Napoli, la visita guidata in offerta speciale (dal 13 al 18 novembre) a ilCartastorie | Museo dell'Archivio Storico del Banco di Napoli (al costo di 5,00 €) che schiuderà agli occhi dei visitatori le storie contenute nell'archivio storico bancario più grande del mondo. L'esperienza sensoriale nel percorso multimediale Kaleidos di Stefano Gargiulo | Kaos Produzioni coinvolgerà i visitatori nella storia di Napoli e del Mezzogiorno d'Italia dal 1573. San Gennaro e il Vesuvio, la peste del 1656, la verità dietro la leggenda sul Cristo Velato sono solo alcune delle pagine che si "materializzeranno" davanti agli occhi di chi varcherà questo luogo unico nel cuore del centro storico di Napoli.
Prenotazioni all'Associazione Culturale NarteA:
– da lunedì 13 a venerdì 17  novembre: prenotazione obbligatoria al numero 339 7020849.
– sabato 18 novembre:  prenotazione non necessaria, partenze programmate alle ore 10.30 – 12.00 – 15.00 – 16.30.
—
Il programma dettagliato dell'intera manifestazione è pubblicato sul sito di Museimpresa al link www.museimpresa.com e gli hashtag ufficiali della Settimana della Cultura d'Impresa 2017 per condividere le iniziative di quest'anno sono #linguaggidellacrescita #SettimanaCulturaImpresa.