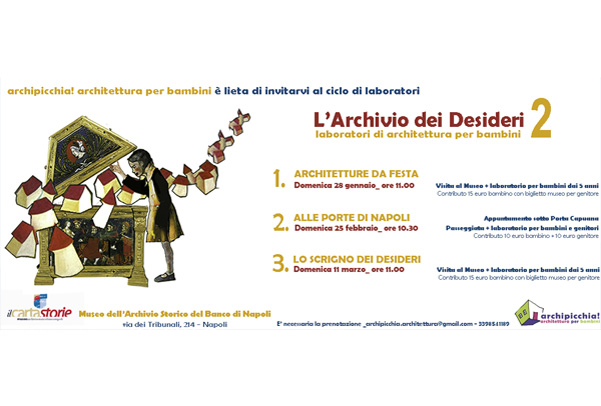 The Archive of their Dreams*
The second edition of The Archive of their Dreams, the architecture workshop for children organized by the Archipicchia Association. There will be three appointments to discover Naples through the writings of the ancient public banks and travel to the past in order to discover the hidden treasures of the city.
FESTIVAL ARCHITECTURE Sunday, January 28, at 11:00*
Museum visit + workshop for children age 5 and older

Once upon a time, everyone gathered in the piazza to celebrate Carnival. Just as the documents say, in front of the Royal Palace there were festival floats made of wood and papier-maché which were true works of art. After visiting the Kaleidos multimedia tour at ilCartastorie, participants will travel through time to discover these festival machines, from the Maypole to the more recent sculptures that have filled Piazza del Plebiscito during this event. A map of the piazza will be used to construct new festival architecture for that space.
15 euro contribution per child including and museum ticket for the parent.
AT THE GATES OF NAPLES Sunday, February 25 at 10:30*
Walking tour + workshop for parents and children
Children and their parents will be led on a guided walk from Porta Capuana to the Museum at the Historical Archives of the Banco di Napoli, in via dei Tribunali, passing through the Church of Santa Caterina a Formiello and Castel Capuano. Entering the city through the gate called Porta Capuana, participants can admire its imposing bastions. The walk will be followed by a story about how this part of Naples appeared, as it is described in a document contained at the Archives. Upon arrival at the Archives, visitors will build a model of the part of the city they visited, the gate and the castle, reinterpreting it according to new points of view.
 10 euro contribution per child + 10 euros for the parent/s (includes museum ticket).

THE ARCHITECTURE TREASURE CHEST Sunday, March 11, 2018 at 11.00*
Museum visit + workshop for children age 5 and older
A visit to the Kaleidos multimedia tour of ilCartastorie and a reading of a particular archival document will transport visitors to a faraway land, where a prince, on his way to mass, entered a church directly from his own house.  Participants will reconstruct this part of the city (of which the archival document is the only source) reinterpreting it with imagination and creativity. These fantastical reconstructions will then be used to create a larger collective work by the children: a treasure chest of dreams that will contain the Naples created by their imagination.
 15 euro contribution per child and a museum ticket for the parent.
Please book by email at the following address:  archipicchia.architettura@gmail.com or call 3398541189.
*currently offered in Italian only