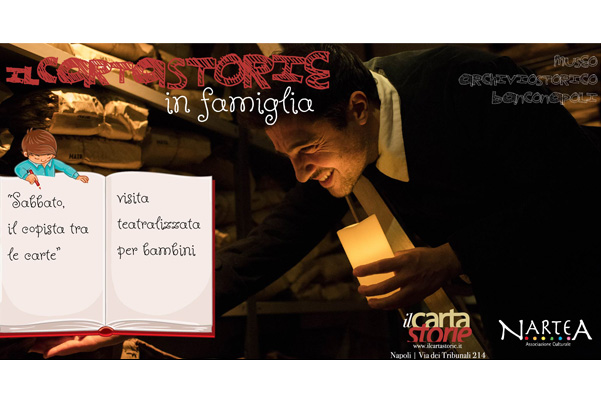 Il Cartastorie in Famiglia – March Family Day
After its great success in February, on March 4, 2018, ilCartastoria, together with the NarteA Cultural Association, will dedicate another day to Families at the Museum of the Banco di Napoli. Reduced prices and activities for children (from 5 to 13 years old) will be offered, along with a surprise for all the children in attendance for the festivities of CARNEVALE: a theatrical tour of the Archives!
Costumed actors impersonating employees of the ancient Neapolitan banks will accompany the children and their parents through the Kaleidos multimedia exhibit by Stefano Gargiulo| Kaos Produzioni, where they will hear some of the fascinating tales about San Gennaro and Mount Vesuvius, Caravaggio, the Veiled Christ and many other figures from the history of Naples.
"Sabbato, the scribe among the documents" is the name of the special theatrical tour for children, who will enjoy learning about the secrets, stories and anecdotes relative to an old profession and the curious incidents related to it. Being a copyist or 'journalist' of the Banco di Napoli was a job with grave responsibilities, and errors were paid for dearly: our Sabbatino knew it well, as generations of copyists from his family had worked at the Banco. The adventures of Sabbato are an opportunity for visitors to hear some stories about Naples, with jokes, quarrels,  and lively conversations with the children.
The text of the theatrical tour was written by Antonio Perna, and the comical employee of the Banco di Napoli will be played by Alessio Sica.
The special offer for "ilCartastorie for Families":
Children up to 13 years old FREE
Kids from 13 to 18 years old € 2,00
adults € 5,00
Guided tours will be offered at 10.30 and 12.00
For information regarding similar offers: 3397020849 or 3333152415